How a properly prepared, nutrient-dense diet can change your health and your life.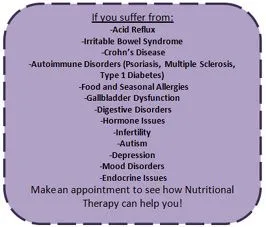 What an incredibly true statement. Every cell, organ, muscle fiber and system in your body depends on the fuel you provide in the form of food. Food is the catalyst for how your body functions. Are you fueling your body properly? Modern diets consist of refined sugars, refined carbohydrates, processed food, nutrient depleted vegetables & fruits and poorly produced animal products. Learn how a traditional, whole foods diet can change your health.
Using laboratory testing through Meridian Valley Labs to determine your specific dietary and supplemental needs and top brands of nutritional products like; Standard Process ,,Biotics and Apex we can get your health on track.